Smart job search preparation leads to H-1B job offers despite the job search challenges international students normally face when seeking U.S jobs.
Is this you?
Feeling stuck as an international job seeker?
Maybe you don't have any new company targets that are open to international students?
Feeling nervous about OPT?
Graduation is quickly approaching but no job offers yet?

Or, is this you? I hope so because this is a MUCH BETTER scenario.
1) You're not in trouble yet as an international CS or IS job seeker - maybe you're a 1st year graduate student - but you want to be super proactive, graduate with a great U.S job, and eliminate the risk of returning home.
2) You want to avoid the "degree no job" situation. You want to take control of your job search results before it is too late.
Regardless of your circumstances, if you are an international student majoring in Computer Science or Information Systems with plans to work in the United States you have come to the right place.

The creator of this course, Marcelo Barros, founded The International Advantage in 2015 with the mission to help international students secure U.S positions. Since 2015 Barros has worked with international students from Harvard, Stanford, New York University, Georgetown University, Purdue University, and about 40 other U.S colleges. Due to the high enrollment of international students in STEM disciplines, often times Barros is asked to provide job search training exclusively for Computer Science international students such as in the example below.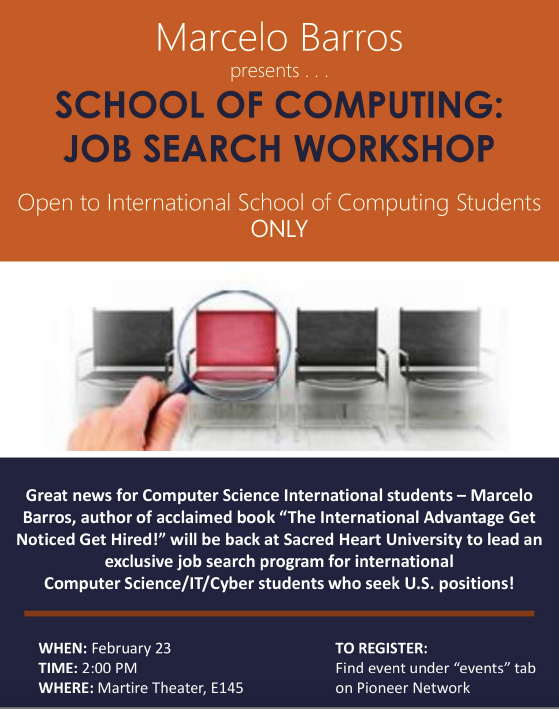 In this course you will learn data driven, simple and effective job search strategies specially designed to tilt the balance in favor of computer science international job seekers who seek U.S jobs. It is a mistake think you're doing everything when job searching when you may not be. By the way, if you are an international student majoring in Information Systems or a similar discipline, this course is for you as well.
In this special course you will learn:

A

4-step job search process specially designed to help international computer science majors secure U.S jobs
How to correctly address the typical "we don't sponsor challenge" by using an exclusive list of 100 companies that have recently hired computers science international graduates (employer target list also applies to IS majors)
How to identify your unique competitive advantages as a job seeker by using Barros

own ISEL* job search framework. (* ISEL stands for I = Interests, S, Skills, E, Experiences, L = Languages
H

ow successful computer science international students

who secured quality jobs in the

U.S

used the ISEL framework to get hired
The key skills and areas of demand that are especially important for computer science international students to target because the supply of American workers with these skills is low
How to best leverage the H-1B visa program now that President Trump is in power and it has gotten harder for international students to

find U.S employment
How to highlight the advantages of the H-1B visa program available for computer science majors and other STEM majors by correctly speaking with U.S employers who may be confused about hiring international students
How to use your

unique

personal story -

with the help of the ISEL framework -

to have an unfair advantage while networking. (Hint: international students normally have very interesting stories to tell…)
How to write a winning email every time, even

when you are not confident about your English language skills
How to correctly manage your conversations with U.S hiring manager

s

and new networking contacts,

so that you always impress prospective employers
TESTIMONIALS
"As Computer Science graduate, Marcelo's job search strategies helped me find my focus and identify my key strong points as a job seeker so I could beat my competition" Vishnu Sudha Vasu Malllipudi, SDE (vendor) at Microsoft
"I just finished taking this course. As a Computer Science International Student with plans to work in the U.S, Marcelo's course taught me how to focus my efforts in order to achieve success. I particularly liked the ISEL portion of the course" Tsaku Nelson, Computer Science International Student, Kennesaw State University

"Informative. Interesting. Imperative. A great experience for our internationals" Prof. Domenick J Pinto, Director, School of Computing, Sacred Heart University
"Take this course. Marcelo's ISEL framework is precise, logical and actionable. Undoubtedly, the guidance which I received from Marcelo helped me during my job search" Anuj Mehta, MBA/Technology Management Major, University of Illinois at Urbana-Champaign
The sooner you understand what you need to do to secure a great job in the U.S, the better your chances of getting hired. Do not wait until your last year in college to seek help. Act with a sense of urgency. Start now.